Management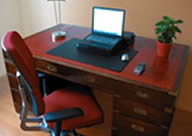 Pare Gregory in the south of France and Pierre Edouard Prevot for Paris and Alps area are the key component of Gp Limousine.
Our owned and operated company allows a real monitoring of each file : you will have one same contact from request to payment.

Our area managers are real specialists of their region, focused on meticulous details, knowing your clients and their driver's profile and giving you the best advice to reach the ultimate service.

During the services, they stay reachable for any question or last minute change at all time and give you feedback.